Pylonians, Greetings & Salutations!
I am Jordan Keeling, marketing guru here at Pylons. If you've been following us recently, you've most likely seen our Community Feedback Survey that went out not too long ago. The replies we received were amazing and we would like to once again say thank you to everyone who shared their thoughts with us.

Our team has been hard at work behind the scenes not only preparing all systems for launch but also adding some of our most requested features, such as: GIF Support (which you can see below), Transaction History, Sale Notifications, Purchase Flow Optimizations, Additional Languages - the list goes on! Seriously, there's a lot in our newest version rolling out to the app stores. It's truly a major moment for us and gets us another step closer to mainnet, which is shaping up to be something epic! We (most likely) have one more weekly update left before kickoff!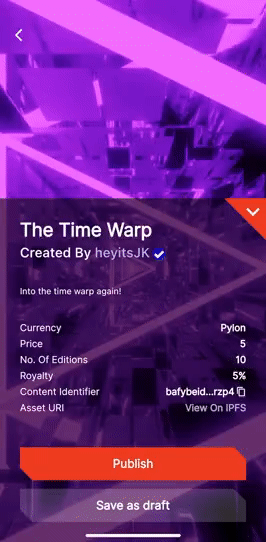 It's been truly phenomenal to watch the growth of Pylons through these updates and this is just the beginning! Remember, we're actively seeking your feedback and suggestions to make Pylons the best it can be! We have some more treats up our sleeves for the future, so join us on Discord (discord.gg/pylons) or follow us on Twitter (@pylonstech) to be a part of what we're building.

Until next time, over and out!
Mainnet is almost here.